04 Jun

How To Maintain a Successful Mentoring Relationship

"Whether you seek out your own or are assigned one by your company, having a mentor can be a wonderful asset, no matter the stage you're at in your career." said Rachel Bitte.

A mentor's job is to guide you toward making good decisions that affect how your career moves. They can also guide you in the right direction on gaining skills required by your industry.

At Mentor Africa Foundation, we have willing and available mentors who can help you build your skills as a professional, employee, entrepreneur, freelancer or future leader.
But, like every relationship, building and maintaining a successful mentor relationship isn't effortless.
There are tips and tricks you must learn that would help build trust and lead to a successful relationship between you and your mentor. The following are essential tips to adhere to when building and maintaining a successful mentoring relationship.
How To Maintain a Successful Mentoring Relationship
"Building your relationship with your mentor is like job searching – you need to put time, effort and focus into cultivating and growing this relationship," said Vicki Salemi, career expert at Monster. "Just as your dream job won't fall into your lap, neither will the perfect mentor relationship."
Here are 5 ways to build a successful mentoring relationship
1. Choose A Mentor Wisely
Compatibility is crucial to the success of every relationship. You have the chance to choose a mentor when you sign up on the platform. Look through the list of mentors and connect with someone who you believe can share your values, goals, and fears. It is best to connect to an experienced professional in a related field or career choice, and ask for specific advice.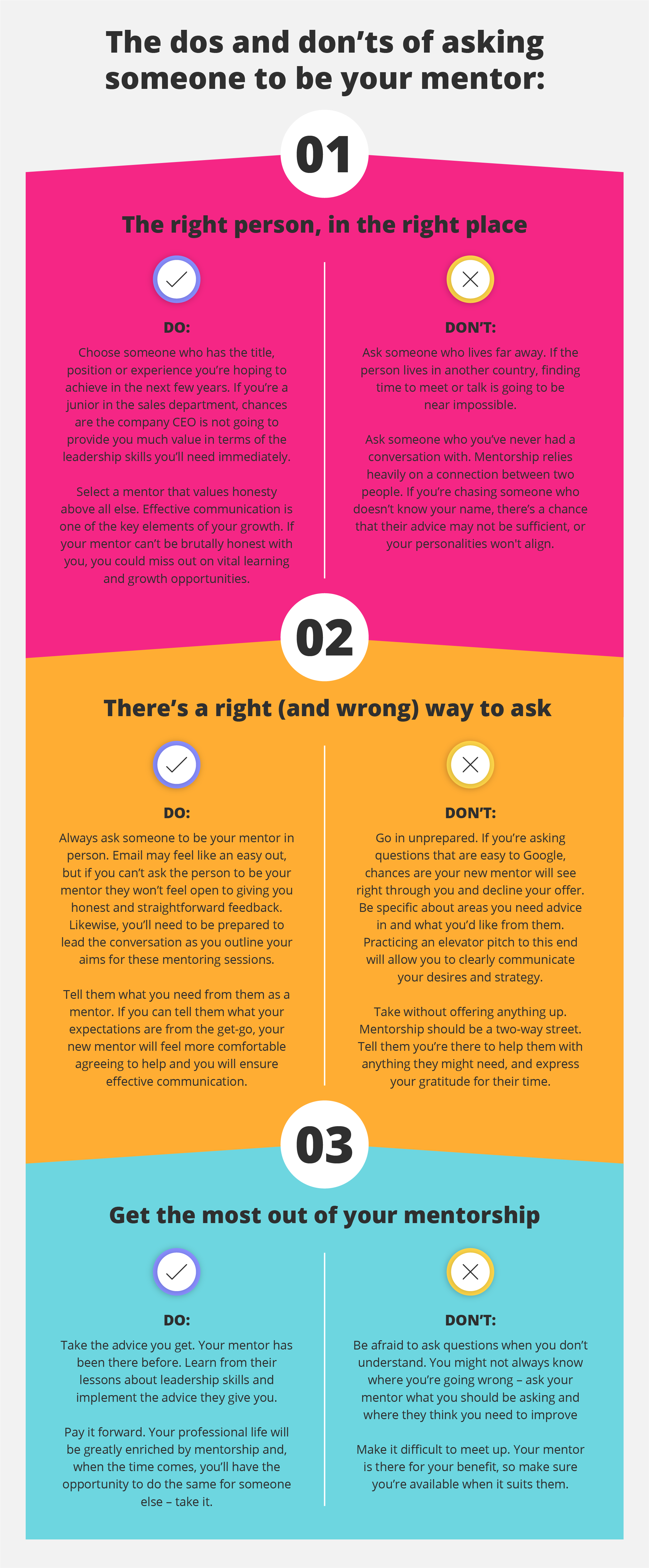 2. Respect Your Mentor's Time
A mentor's time is valuable. Most of our mentors are seasoned professionals with busy lives.
You must respect the time set aside for meetings with your mentor. Find ways to get the most out of each session by preparing ahead for the meetings.
Remember, use the time given to ask relevant questions, identify problems, and propose solutions to assist your mentor in deciding which response might be the best.
3. Be Active and Present Always
As a mentee, be upfront. Let your mentor know what your goals are and what you hope to take away from the programme. Listen and ask questions based on your observations and experiments.
Work on your end to make the relationship with your mentor grow. Aside from defining your goals, it is important to be active and present.
Our app has features that help notify you of chats and meetings set by your mentor. You can schedule a meeting and be reminded on time.
Never ignore notifications and keep your mentor in the loop through the messaging feature.
4. Get To Know Your Mentor
Build a relationship of trust with your mentor. It is advisable that you define your roles and responsibilities, establish short- and long-term goals, communicate ideas, and collaborate in solving problems.
Effective mentoring cannot take place if there is a lack of trust. You should get to know your mentor on a professional basis.
The more you know about your mentor's career, mistakes and successes, the more they can help you. You can ask them about their professional backgrounds and how they've navigated past career challenges.
Getting acquainted with your mentor is key to establishing an environment of trust and mutuality.
5. Follow Up and Feedback
After every session, follow up and let the mentor know what was impactful and meaningful. Make sure to highlight the ways in which you incorporated the advice into your life/career.
When provided with a constructive feedback on your goal progression, reflect on your actions.
Never fail to review the observations with your mentor. This will help determine the next steps.
Open, respectful, and supportive communication is essential to this process.
6. Be Curious and Take Up Challenges
You should be curious and step out of your comfort zones sometimes. Learn as much as you can about your
fears until they no longer scare you.
Talk through challenges with your mentor, and get help in finding answers to your questions. Your enthusiasm in learning and taking up challenges will be appreciated by your mentor.
Remember, a healthy mentoring relationship can be achieved through effective communication
and collaboration between you and your mentor. Always speak to your mentor about your
struggles.